Meet Our Team
Our practice is built on strong, long-lasting relationships. From the voice on the phone to our dental professionals and dentists, every member of our team is experienced and compassionate. We're committed to treating people, not teeth!
Our Dentists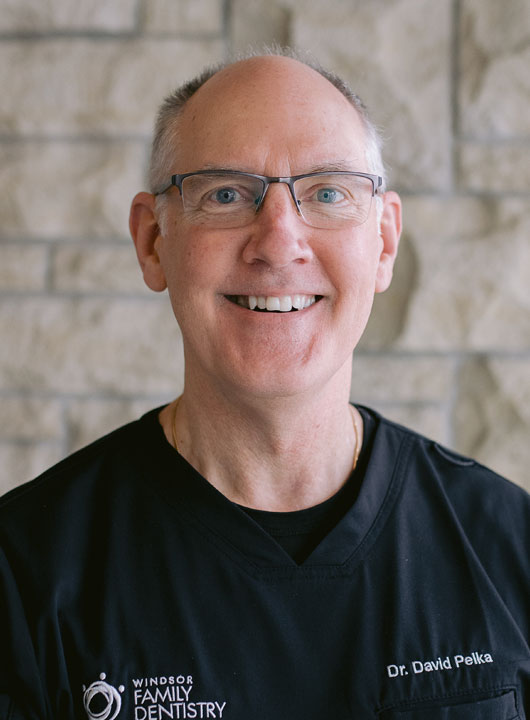 Dr. David Pelka
Dr. Pelka began his professional education at the University of Windsor, where he studied biology before gaining early acceptance at the University of Toronto. He graduated from U of T in 1985 with a Doctor of Dental Surgery (DDS) degree. After he graduated, he returned to Windsor to begin practicing with his friend and mentor, Dr. Ernie Loaring. In that same year he married his beautiful wife, Brenda, and their lives were soon enhanced with the births of their daughters Stephanie, Sophia, and Serena.
Read More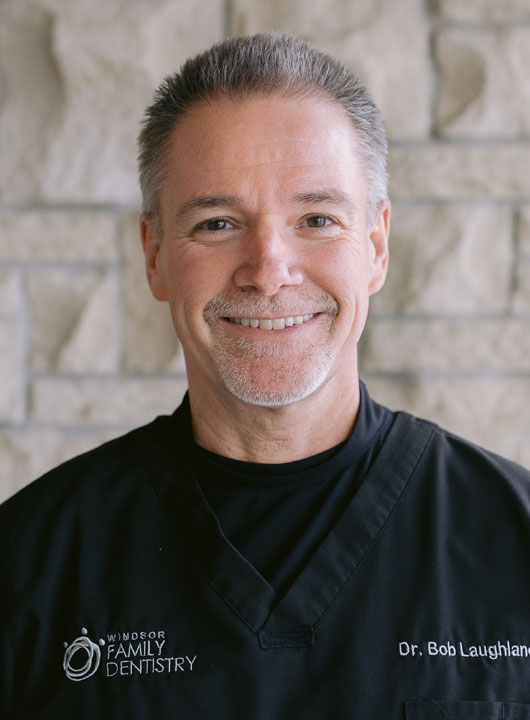 Dr. Robert Laughland
Dr. Laughland studied biology at the University of Windsor, where he met and began his friendship with Dr. Pelka. When he finished his degree, he gained acceptance to George Brown College and graduated as a denturist in 1987. In 1987 he also married his lovely wife Kathy. They've been blessed with two sons, Nathan and Colin. Dr. Laughland wanted to continue his education in dentistry, so he went on to University of Detroit Mercy to study dentistry. He graduated in 1996 with a Doctor of Dental Surgery degree and went on to complete a one-year residency at Sinai Hospital in Detroit.
Read More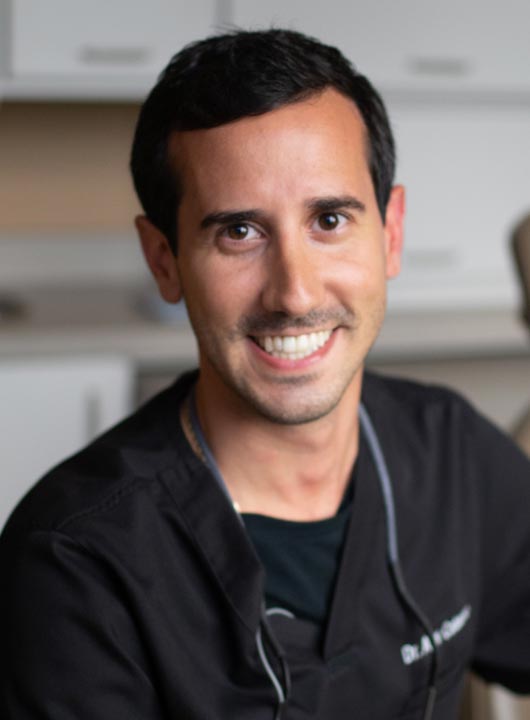 Dr. Alex Catauro
Dr. Catauro was born and raised in Tecumseh. He went to St. Anne High School and received his undergraduate degree from the University of Windsor. Dr. Alex has always been interested in being a dentist, and is particularly drawn to the aspects of artistry, patient interaction, and health care services. He decided that dentistry was the right career for him as he has known and observed several local dentists and had a great experience with his own family dentist.
Read More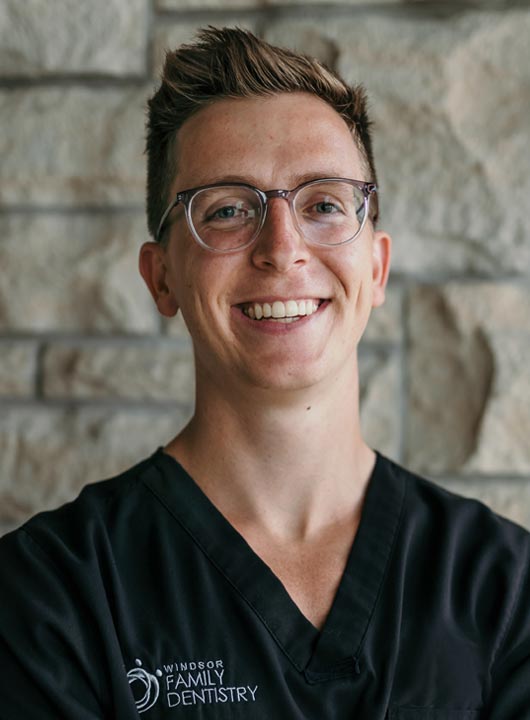 Dr. Alex Chevalier
Dr. Alex Chevalier has been a lifelong resident of LaSalle, attending Sandwich Secondary School and graduating from French immersion with honours. Alex earned his University of Windsor Biochemistry degree, graduating with distinction. Seeking to follow his passion for dentistry, he shadowed the dentists at Windsor Family Dentistry throughout his undergraduate education. Alex appreciated all aspects of dentistry, identifying the relationships that blossomed between the patient and dentist as notably gratifying, inspiring him to pursue general dentistry.
Read More
Administration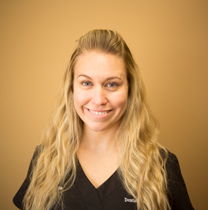 Jocelyne
After completing her schooling from CDI College in 2006, Jocelyne has dedicated herself to continuing to develop her knowledge and skills in dentistry. She started with Windsor Family Dentistry as Dr. Pelka's assistant and now currently holds the position of Case Manager. She has well-rounded experience in both the clinical and administrative areas which gives her the skills to successfully present treatment and educate patients with regards to their dental health.
When she isn't teaching patients about fillings and crowns she is at home in her garden enjoying her time with her two small boys teaching them their ABCs and how to grow perfect tomatoes.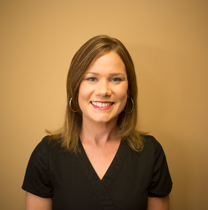 Lauren
Lauren has worked in the dental field for over ten years, and joined our team in 2008. Lauren strives for excellence in customer service. She is exceptional at what she does because of her positive attitude and enthusiasm for the dentistry we provide. Lauren has two children and enjoys spending time with family and friends. Her interests include outdoor activities, shopping and travel.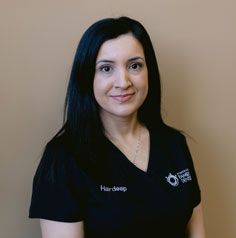 Hardeep
Hardeep is a graduate of the St. Clair College Dental Assisting Level II Program. She joined the Windsor Family Dentistry team in 2002. She has two beautiful young girls who she enjoys spending quality time with. She loves being a part of the practice and enjoys being of service to our lovely patients.
Clinical Assistants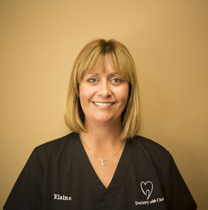 Elaine
Elaine graduated from the Dental Assisting program at St. Clair College in 2007 and has been with us for over seven years. Her dedication and organization abilities help our office run smoothly and efficiently. Elaine enjoys walking, reading and spending time with family and friends. She and her husband are very busy at home with three children and one spoiled dog named Beesly.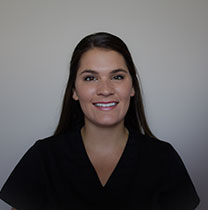 Leah
Leah graduated from St. Clair College in 2010 from the dental assistant program and soon realized that she found her passion; making people feel confident with their smiles. One of her favourite things about her job is getting to meet new patients and getting to know them.
Outside of the office, Leah's life is very family-oriented. Most weekends she and her husband and two children are off exploring Essex county. They love the outdoors!
Fun facts about Leah: She married her high school sweetheart in 2014, is half Slovak and French, and LOVES food... especially sweets! Her favourite food? That's easy! Tacos and pizza!
We are lucky to have Leah working with Windsor Family Dentistry.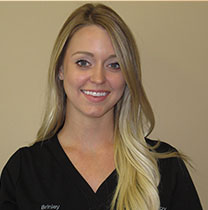 Brinley
Meet Brinley, a graduate from the Level II Dental Assisting Program at St. Clair College in 2009. Brinley is a member of the Ontario Dental Assistants Association and is dedicated to continuing her education to expand her skills in dentistry. She has been a compassionate member of our team since 2016 and aims to make patients feel comfortable and at ease during their time at our office.
Outside of the office, Brinley loves cooking and trying out new recipes in the kitchen. She also enjoys traveling and spending time outdoors with her beloved fur family and high school sweetheart husband. Brinley looks forward to continuing to assist you with your dental needs!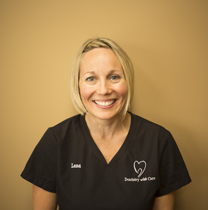 Lana
Lana graduated from St. Clair College as a certified dental assistant. Also a Windsor native, Lana attended Kennedy Collegiate. She worked for three years as a dental assistant in a Pediatric dental practice involved in children's dentistry, treatment of special needs patients and hospital dentistry. She has been a huge asset to our practice since joining Dr. Hockley as his primary clinical assistant in 1995. Lana subsequently returned to school to upgrade her certification to that of a Level II Assistant. This allows her to carry out a broad range of procedures including impressions of teeth, placement of sealants, application of topical anesthetics and fluorides, and polishing of teeth. Outside of the office, Lana enjoys physical activities including time at the gym, yoga classes, and of course spending time with her husband and their young daughter. She is also quite an expert in music trivia, spanning a multitude of genres. However, one of Lana's greatest attributes has to be her ability to laugh at Dr. H's jokes...even the ones that she has heard a multitude of times before!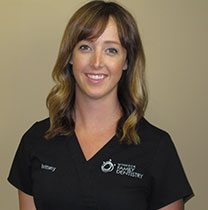 Brittany
Brittany graduated from the Level II Dental Assisting Program at St. Clair College, Windsor, Ontario in 2011. Since that time she has been a member in good standing of the Ontario Dental Assistants Association. She has been Dr. Pelka's assistant since the time she joined the practice in 2014. She is so grateful to have found her place here at Windsor Family Dentistry!
She strives to make every patient feel comfortable and at ease. Brittany enjoys spending time with her beautiful family and loves finding time for life's little pleasures such as gardening, golfing and oh yes, being out on the water!
Dental Hygienists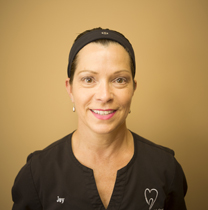 Joy
Joy is one of our highly qualified team of Registered Dental Hygienists. A graduate from St. Clair College Dental Hygiene program, Joy has been a loyal employee for 14 years. Dr. Pelka and Joy have completed specialized training in Orthodontics and take pride and satisfaction in developing beautiful and healthy smiles for their patients as well as maintaining their overall dental health. Joy is also a familiar face at Good Life Fitness, as she is a certified Fitness Instructor Specialist who teaches a variety of group exercise classes to assist members in maintaining a healthy lifestyle. Joy and her husband have two beautiful daughters and she is as dedicated to her patients as she is to her family. Her loyalty is a valuable asset to Windsor Family Dentistry and our patients.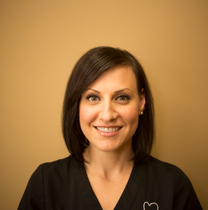 Julie
Julie graduated from St. Clair College with a Dental Hygiene diploma. She enjoys getting to know her patients individually to provide high quality dental care. Julie is a busy mom of three and enjoys spending time with her husband and children, cooking and traveling.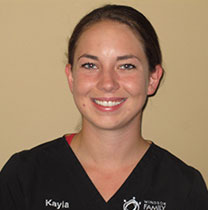 Kayla
Kayla graduated from Sandwich Secondary School to then earn her Dental Hygiene Diploma at St Clair. College in 2011. She has worked for Windsor Family Dentistry since 2015 and strives to aid patients with maintaining and promoting their oral health with continuous education.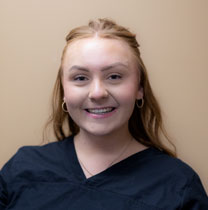 Abbey
Abbey graduated from the St. Clair College dental hygiene program in June of 2019, and began her career as a dental hygienist just two months later, joining our team at Windsor Family Dentistry. She is a 22 year old who is passionate about the oral health of the Windsor Essex's community. She feels incredibly lucky to be apart of such a wonderful group of professionals who share the same interests as her. As a member of The Canadian Dental Hygienists Association, as well as The College of Dental Hygienists of Ontario, Abbey is constantly keeping up with new guidelines and continuing her education throughout her career to provide quality care to our patients. Abbey is great at making sure our patients feel comfortable in her chair, and will always have a smile on her face (even behind the mask). Outside of work, Abbey loves going to concerts, spending time with her friends and family, and playing her guitar.